Pockit Prepaid Mastercard Review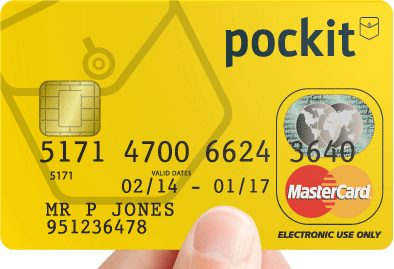 In this Pockit Prepaid Mastercard Review, we take a look at some unique features that this card has to offer. Much like Go Henry and Osper it is also suitable for teenagers.
Pockit
Pockit Credit Card? No Actually, Pockit Debit Card
Although Pockit carries the MasterCard logo it is tempting to think that the card is a credit card, when in fact it is a prepaid MasterCard and online account. The difference between a credit card and a prepaid MasterCard, is that you cannot go into debt.
Another good thing about a prepaid card is that you aren't credit checked, so if you have a poor credit rating and need to be able to make payments online, then this is the perfect card for you.
With Pockit the main card holder has to be over 18. However, additional cards can be given to teenagers who are 13 upwards. This makes it an option for parents who are wanting to give their children some financial freedom, and to try and teach them how to use electronic money systems wisely.
If you have children or teenagers who are away from home, you can give them one of these cards and then deposit on their behalf.
Although you have to be 18 to sign up for a Pockit card, additional card holders only have to be 13 years upwards.
Card Fees
There are other cards similar to this that I have reviewed. However the creators of Pockit decided to opt for a low cost model where you get charged for doing certain things with the card, plus a 99p quarterly maintenance fee.
Here is a list of the charges for using the Pockit card​
It's always free to
Spend with your Pockit card online or on the high street
Deposit money online by debit card
Deposit your money by bank transfer
Cancel your card
It's 99p to
Get your Pockit card
Deposit money at PayPoint
Withdraw cash from UK ATM's
Add additional cardholders
Get a replacement card
Overall I think the charges are reasonable and quite simple to follow. If you intend to withdraw cash then you face a 99p charge. Use it to pay for something and there is no charge.
When it comes to putting money onto the card, deposit from your bank or by using your debit card and its free. Use a PayPoint machine and there is a 99p charge.
If you are planning on giving the card to a teenager it possibly makes the card less useful for younger teens, and more appropriate for older teens. They will need to grasp an understanding of what they will and won't be charged for.
I suppose as a parent you will be responsible for depositing onto the card, it's possibly best to tell your teenaged son or daughter, not to use the card for cash withdrawals. This will help them avoid any unnecessary charges.
What about those fees?
All in all these fees are reasonable, use the card to pay for things, deposit using your debit card or by bank transfer, and there are no ongoing fees for using the card.
Cashback On Purchase
One of the great things about Pockit is that they offer cash back of up to 10%, simply from buying from certain retailers, using your Pockit card.
This is a great feature and very similar to the likes of Quidco and Top Cashback. If you aren't familiar with Quidco and Top Cashback, then it's a site that if you buy from your favourite online retailer through them, then you get back a percentage of the sale back in the form of cashback. The cashback is paid into a nominated bank account.
I have been a long time Quidco and Top Cashback and managed to earn of £3000 in cash back over the years. Given that I know how good Quidco and Top Cashback is, I like the thought of being able to use Pockit to do similar things.
The great thing about Pockit cashback, is that I don't have to remember to go to another website first to earn my cash back. I just have to remember to pay using my Pockit credit card.
Below is a list of websites where you can earn cash back simply by using your Pockit card when you make a purchase.​
| Retailer | Cashback Amount |
| --- | --- |
| JD Sports | 2% Cashback |
| Blue Inc | 7% Cashback |
| B&Q | 5% Cashback |
| New Look | 7% Cashback |
| Carpet Right | 8% Cashback |
| Halfords | 6% Cashback |
| Yours | 7% Cashback |
| M&S | 6% Cashback |
| 1860 | 4% Cashback |
| Officers Club | 7% Cashback |
| ToysRUs | 6% Cashback |
| Virgin Experience Days | 8% Cashback |
| Bella Italia | 8% Cashback |
| Belgoo | 8% Cashback |
| Red Spotted Hanky | 2% Cashback |
| Cafe Rouge | 8% Cashback |
| BabiesRUs | 6% Cashback |
| H.Samuel | 10% Cashback |
| Earnest Jones | 10% Cashback |
| Greenwoods | 4% Cashback |
| Theatre Tokens | 4% Cashback |
| Leslie Davies | 10% Cashback |
| Mansize | 4% Cashback |
| Drink Supermarket | 6% Cashback |
| Storey Carpets | 8% Cashback |
What I am liking about the cashback options that Pockit provide, is that is it a different way of approaching what seems to be a common issue. There is clearly a market for child and teen friendly debit cards.
Go Henry has an in depth thorough approach, with parental controls, to do lists and savings goals.
Osper takes a similar but more simplified approach than Go Henry does and Pockit has the cashback and a small quarterly maintenance fee of 99p
Choices in abundance
Go Henry, Osper and Pockit are all coming up with creative ways of providing electronic money systems, that children and teens can use.
Closing Thoughts
Overall I am enjoying using my Pockit Card. I have a login for my online account so I can keep track of what I spend. I am managing to keep the charges to virtually zero, by not using the card to withdraw cash, and depositing using my debit card or bank transfer.
I have also got another card for my oldest son. He is enjoying the financial freedom the Pockit card brings him. I have the added benefit of knowing that he can't spend more than what is on the card.
Whilst the cashback is better than nothing, I would like to see more retailers being added. Other than two or three on the list above, there aren't many that I would normally use.