I am a big fan of these types of products and in 2016 it was reported that 77% of all sales were made on cards rather than cash. So we are seeing a downward trend in cash being used to make purchases.
So whilst giving your child pocket money in the form of cash is a good way of teaching them to manage their money, is it time to switch to electronic money so they can learn to tackle the challenges these money systems bring?
Go Henry vs Nimbl
I have put together a Go Henry vs Nimbl comparison chart so that you can easily see the difference between the two.
| | Go Henry | Nimbl |
| --- | --- | --- |
| Price Per Month | £2.49 | £10 Per Year |
| Free Trial | 2 MONTHS | 3 MONTHS |
| Withdrawal Fee | FREE | 0.49p Per Withdrawal* |
| Card Usage Fee | FREE | FREE |
| Dormancy Fee | FREE | 99p per month |
| Overseas Withdrawal | | £1.50 Per Withdrawal |
| Echange Rate Fee | | 2.95% |
| Card Cancellation Fee | | £5.00 per card |
| Replacing Lost, Stolen or Damaged Card | | £5.00 per card |
The first cash withdrawal on the Nimbl card is free.
The Card Design
I really like the design of the Nimbl Card it's bright and vibrant and stands out but doesn't look too childish either. They don't offer the ability to design your own card or customise it in anyway. I am not sure if it's needed for now as they only launched the product in 2016, so I am guessing there are other features that need adding first.
The Signup Process
Signing up for the card is really easy, you visit their website nimbl.com and fill in basic details like your name, address phone number and the name of your children that will be using the card.
It's really easy to do and there is nothing complex about it. There is noting to pay up front and the card is free to use for 3 months.
The App For Tablet
One of the common features that these prepaid debit card companies that are aimed at kids all seem to offer is an app.
It makes sense really and like the others Nimbl offers a dedicated app for both Android and Apple iOS devices. The Apple version of the app can be downloaded from here and the Android version of the app can be downloaded from here.
In terms of using the app it's really straight forward. Just login using the email address and password that you setup when you created the account.
When topping up the card for the first time you have to do it via the website. So you will need to use the browser on your mobile phone or visit the website on your computer to make the initial deposit.
Once you have registered your card for the first time you can then top up via the mobile app.
You administer the card via the website as well as the app if you go to the website on your mobile or tablet.
If you decide to go down the app route, there is no charge for the app and it is really simple to use.
All these services work in the same way, the parent makes a deposit and then decides to distribute the funds to each child.
Everything is clearly laid out and it's straight forward to use. There is an option to add a photo of your child and one of yourself as the parent if you wish to customise the app.
Pocket Money Options
You can transfer funds from your parent account to the child account via a "Quick Transfer" or setup a weekly or monthly pocket money amount.
This is done by clicking on the name of your child and configuring the amount of pocket money you would like that child to have and how often you would like them to get it.
There is a statement view so you can easily see what has been spent and where it has been spent.
Again pretty much all of what can be done on the app can be done on the website.
Partental Controls
The parental controls can be configured on each child's card are are really easy to set up.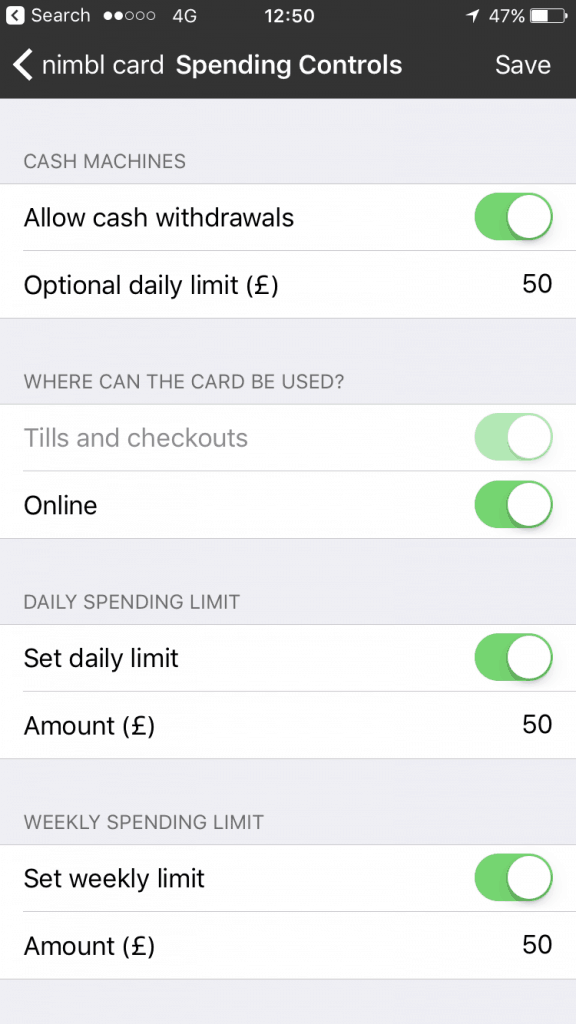 The options available are:
Allow Cash Withdrawals
Control Where The Card Can Be Used (Online or Offline)
Set A Daily Limit
Set A Monthly Limit
Set A Weekly Limit
This functionality is what sets cards like this ahead of the main high street banks. As none of the high street banks offers this functionality.
It may be just a matter of time before they do but I can't see it happening anytime soon.
Nimbl Card Reviews Conclusion
I like the simplicity of the card which probably make it more appealing to older children. Go Henry allows you to create tasks that a child can complete in order to earn more pocket money
What I am not a fan of however is the number of charges the card has. Trying to educate your child about finances is tricky enough, without explaining to them the small print charges.
The most problematic one I can see is the charge for cash withdrawals. On that basis, I would possibly just disable the ability to withdraw cash on the card.